Welcome to Second Life Banjo
A second life for old banjos in the music world
For the love of music ..
PLEASE NAVIGATE USING THE PAGE'S LINK ON THE TOP OF THIS PAGE
At Second Life banjo Every banjo is guaranteed and will be repair at no charge if defective.
Shipping is included in the price for Canada and continental United States. The Shipping will be refunded if the banjo is picked up at the shop. Delivery time is usually 4 days after payment unless some modification are required by the buyer.
Hard Shell case are included for most banjos. If you do not require a hard shell case the $150,00 budget for the case will also be refunded. Please read the banjo description to make sure that the case is included.
Railroad spikes ( fifth string capo) are installed for free.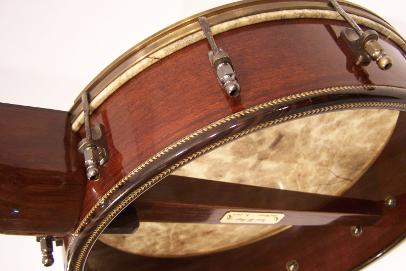 Arcand classic banjo.
Price: $2050,00 including hard shell case and shipping.
Details and options in the ''New Banjo model and prices'' page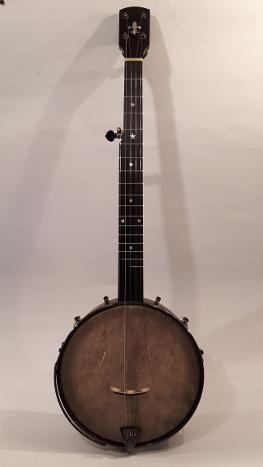 Old Time thin rim No. 8 of 10 Dobson tone ring.
Price : $1550 including hard shell case and shipping.
More details on the ''Five strings banjo'' page.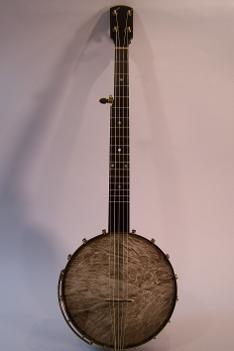 OLD-TIME NO.1260-4
SOLD
Details in the 5 strings banjo page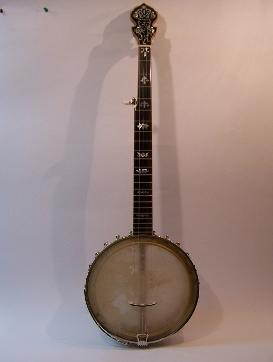 Orpheum No.2 restored banjo
No.1251-4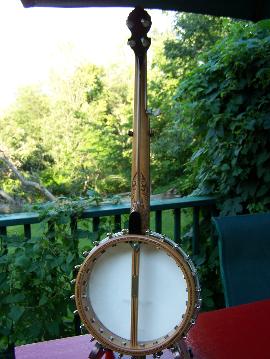 Circa 1920 Orpheum No.2 short scale 5 strings banjo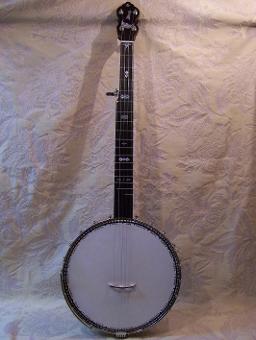 Old time No 1243-4. Cole Eclipse style neck and late 1800 / early 1900 spunover rim.
Details in the 5 strings banjo page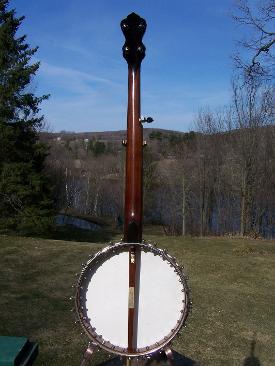 J.B. Schall spunover rim with a blackcherry neck.
No 1247-4
Details in the 5 strings banjo page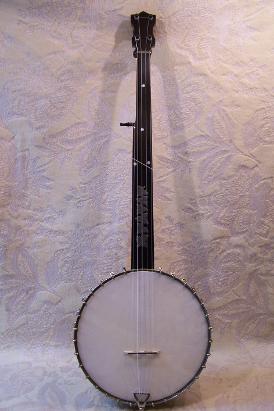 George Matthew fretless banjo
SOLD
Each banjo is a one of a kind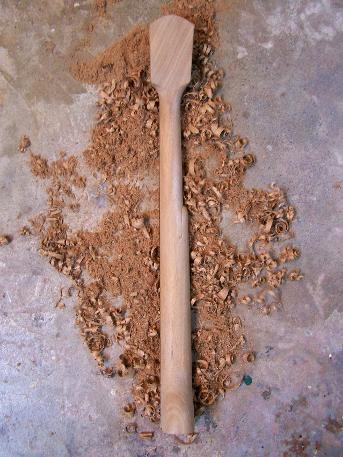 Most of the banjos I recover need a new neck and some replacement parts.
I shape the necks using manual tools ( raps, files, sanding blocks, chisels, drawknive, spokeshave) and take all the time necessary to make sure it is comfortable and easy to play. Every neck is made with the best quality wood and parts.
Inlays are Mother of pearl or Abalone, I do not use plastic or synthetic inlay material.
Most of the bindings are made of wood ( curly maple, bloodwood, Ebony, ) and on some occasions I use plastic synthetic tortoise or binding to match an original binding on the rim or resonator.
All the replacement hardware parts are made of brass with or without nickle plating. I do not use cheap metal parts even on a low budget banjo.
It is a passion and my goal is to put back to life old banjos making sure that they will last a life time and sound at their best.
Vintage wood rims for stability and sound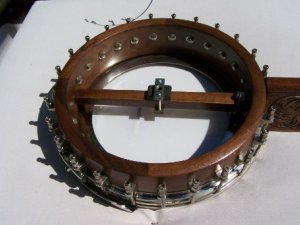 Some of the best banjo makers are using submerge wood or old factory wood to make their banjo's rims. New knowledge in the banjo lutherie carries to use old wood to improve the sound quality of the instruments.
While recovering vintage banjo rims, I go in the same tendency. I am convinced that it does influences considerably the sound quality of the banjos. I also noticed as the density of wood is in most cases much higher than what is offered on the current market.
Of course one day I will probably run out of good quality vintage rims but for now it gives me the opportunity to offer great sounding banjos for a fraction of the price.
These old rims crosses the years without stumbling and were made to last.
Nickle plated brass hardware and professional quality replacement parts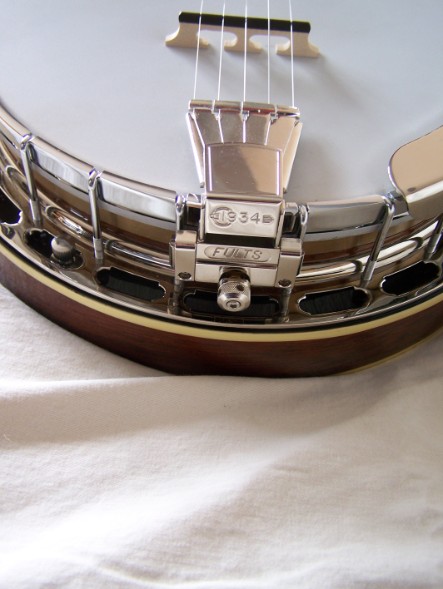 Using only the best hardware available I make sure that the banjos I build or restore are easy to set up and easy to keep in perfect shape. Not only high quality parts are easy to work with but they also raise the value of the instrument. they also give the banjo a better sound.
SOME INTERRESTING FACTS
THE VERY FIRST MUSICAL INSTRUMENT WAS A FLUTE MADE OUT OF BONE 35,000 YEARS AGO
BONE IS STILL IN USE TODAY FOR BANJO BRIDGES AND NUTS.
THE INNER SHELL OF THE ABALONE IS TWICE AS RESISTANT AS THE CERAMICS THAT EVEN ADVANCED TECHNOLOGY CAN PRODUCE
THIS IS WY FRETBOARDS WITH LARGE MOP OR ABALONE INLAYS SHOW LESS WEAR THAN EBONY WITH SIMPLE DOTS.