PLEASE TAKE NOTE: These banjos are not new and may have small bruises or scratches. Non of those will affect the banjo solidity or sound. Because some components are close to 100 years old, every part of those instruments have been carefully inspected, cleaned, polish and repair when needed.
19 frets trad tenor banjo.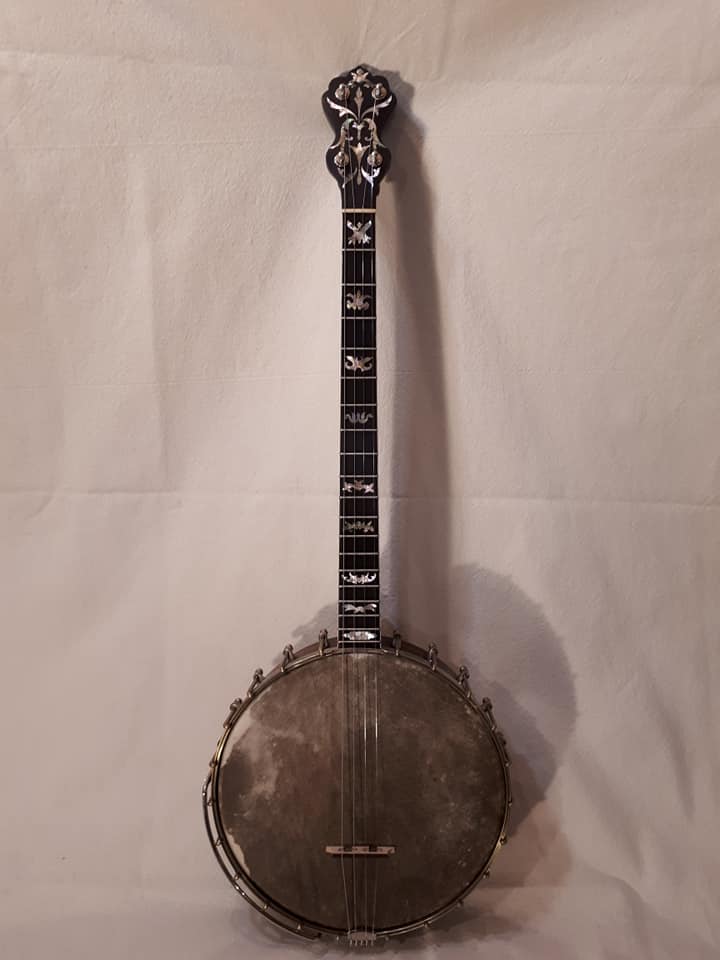 $ 1150 USD
11 inches goatskin head from Menzies instruments 19 frets wide maple neck with ebony fingerboard, pink abalone inlays, new frets, 24 inches scale. All nickel plated brass hardware. Multi-ply rim from a Bailey banjo 1930,s (Same type of construction as the vintage Vega rims but thicker) Gotoh tuners. Superior hardshell case Plated second Life banjo / Carl Arcand number 1223-4 and ready for a century of music.
Weymann style 2 plectrum banjo.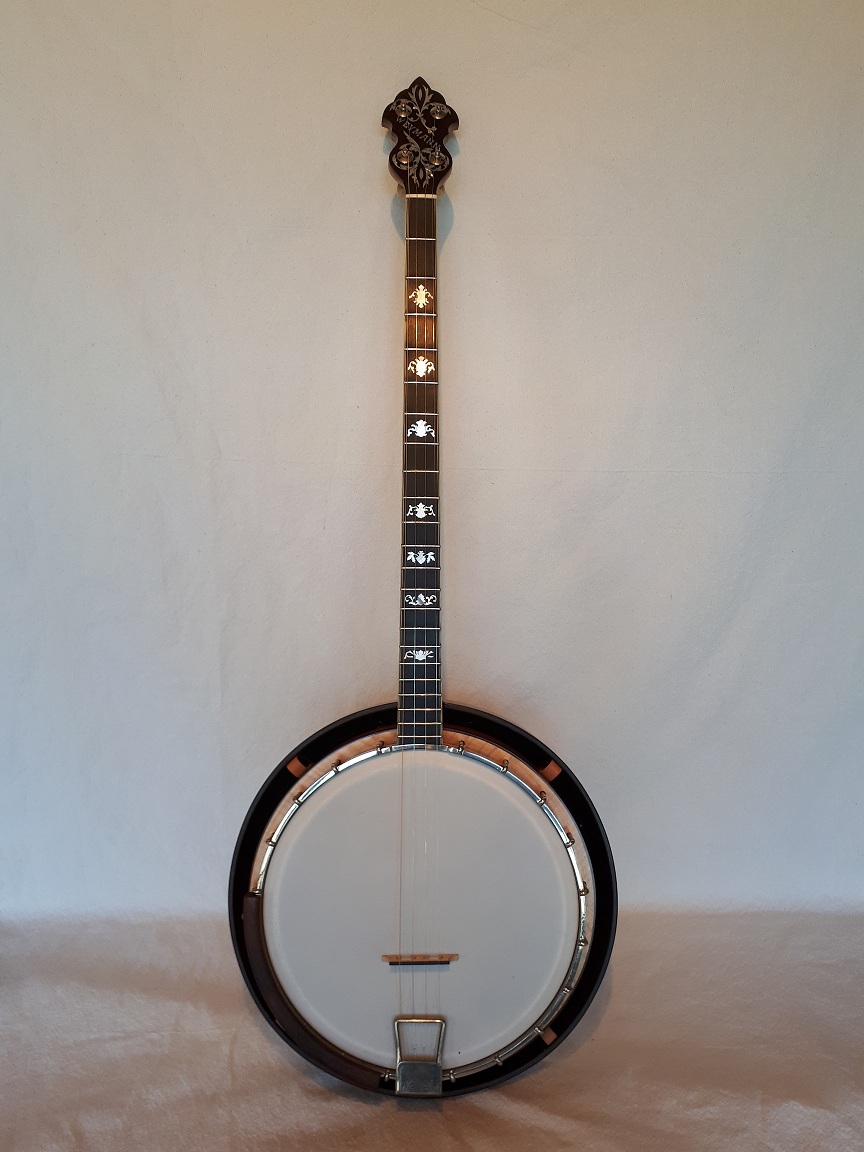 $ 1250 USD
SOLD..... Beautiful Weymann style 2 plectrum banjo. All maple construction.with fine marquetry and wood lamination. All original hardware. New frets. radius frets. Completely refinished with a natural maple stain and satin lacquer. Neck is straight with a nice action but has a small twist almost not visible. The banjo plays very well with no buzzes and has this powerful and deep Weymann sound. Comes with and original hardshell case that show it's 90 years old.but still holding.
Ukulele banjo
$ 540 USD
Circa 1920 Slingerland piccolo ukulele soprano banjo. All original except for new calfskin head, strings, tailpiece and replacement vintage friction tuners.
The 7 inches in diameter maple rim is made of one 3/8 inch maple ply with a inner veneer of 1/8 inch of birdseye maple and an thin outer veneer. The neck is also birdseye maple with a pearwood or walnut center strip. A few small cracks in the rime were repaired with a mix of glue and wood dust. It's totally round and solid and i replaced the 1/4 inch steel round rod tone ring by a bell brass one.
The hardware including the tension hoop is all original and has been cleaned a lightly polished.
The calfskin in new and was mounted on a brass hoop. The neck is straight and the action is low and comfortable. The frets are new and the fingerboard was leveled. The scale is 14 inches.
New Noknot nickel plated brass tailpiece. New mother of pearl nut. Antique grover bridge. Nylon trings.
Rim and neck have been stripped of the old finish. Some bruises and old cracks still show under the new finish being part of the instrument's life.
The sound is clear and clean . Enough sustain for melody style and a good punch in picking style.
Ready for music and plated; Second Life banjo No. 1263-4
Slingerland MayBell Banjo Ukelele No.1216-4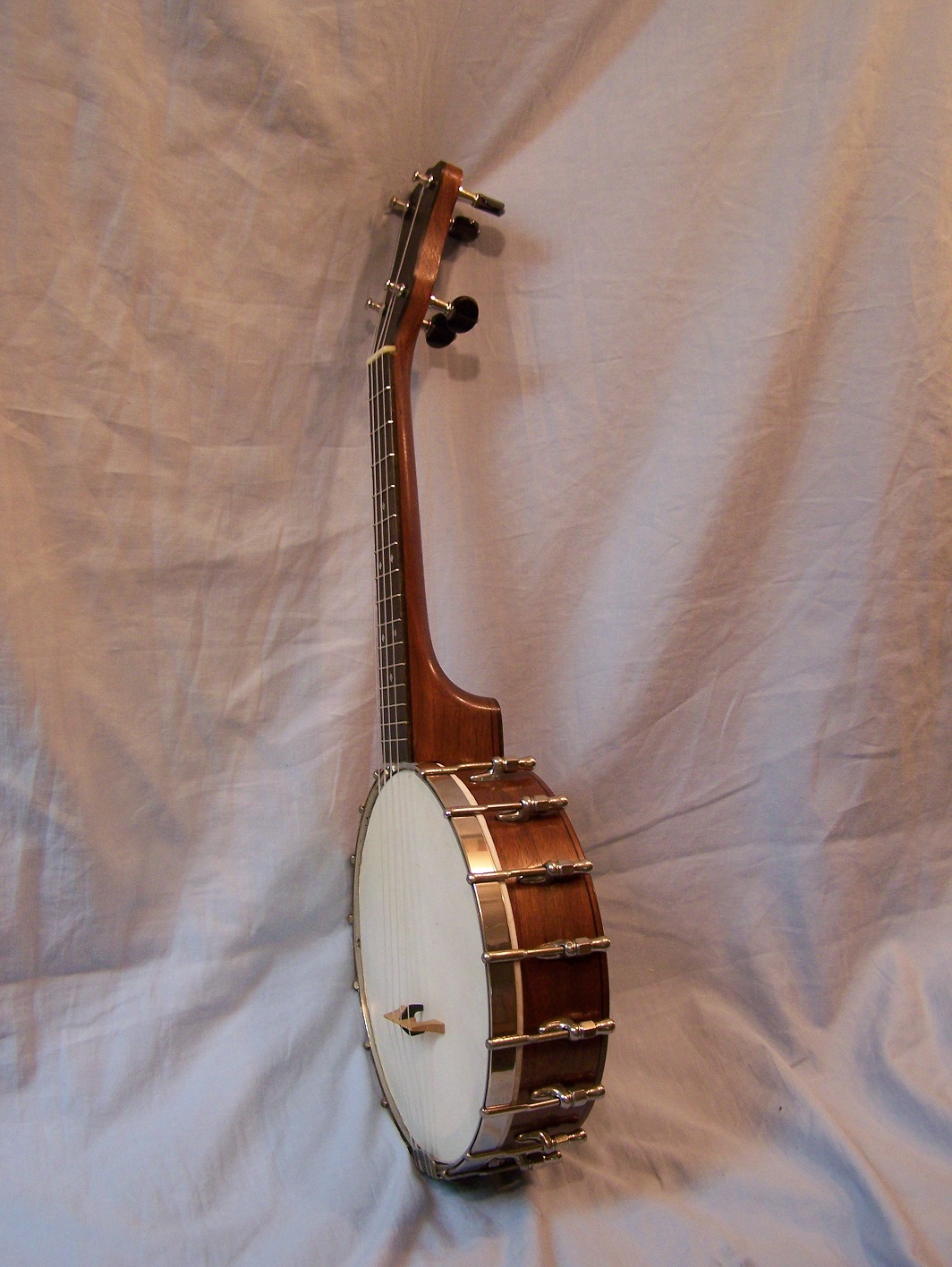 $ 675 USD
Circa 1920 Slingerland MayBell black walnut banjo Ukulele.

Very nice 8 inches walnut rim with a walnut cap.

All original hardware including the Slingerland tailpiece and dowel stick attachment hardware.

3 pieces walnut neck in excellent condition.

Rosewood fingerboard with very little wear on the frets. Bone nut. Pear wood hell cap. New Ebony head plate with a new mother of pearl star. The original head plate was in very bad condition and the star was missing so I made a new one exactly the same. Tuners work well and hold the tuning right on.

New medium gauge calfskin head of superior quality mounted with a square brass flesh hoop.

New geared Gotoh tuners. The rim and the neck have been re finished with a light coat of oil stain to give the wood it's life back and 4 coats of tru oil for a solid, easy to repair and non sticky finish.

A very nice,ready for another century of playing
If you are looking for a 4 strings banjo please e-mail your request and I will be pleased to build one for you using Vintage and/or new parts
Thank you